New Delhi: A grand ceremony for presenting Shri Atal Bihari Vajpayee National Award 2022 was organized by Sammaan Foundation and Jawaharlal Nehru National Youth Center at ND Tiwari Bhawan, ITO Delhi.
During this ceremony, 25 eminent personalities from India were honored with the Shri Atal Bihari Vajpayee National Award 2022, for their contribution towards the welfare of the society.
Gaurav Tiwari, The founder of Sammaan Foundation, informed us that Shri Atal Bihari Vajpayee National Award 2022 is the first honor ceremony in India, which has been named after Hon'ble Ex-Prime Minister Shri Atal Bihari Vajpayee. This award ceremony is conducted by sammaan foundation with the support of the Jawaharlal Nehru National Youth Centre. He said we are also planning to organize this award ceremony in other states of the country on regular intervals.
This award is distributed by the Jagat Acharya TantrikSamrat Shri Sunil Chandraswamiji and Ms. Chandni Arora, Trustee of Jawaharlal Nehru National Youth Center, and Mrs. Rupali Kapoor, Program Director. Sh. Chandraswami was a chief guest at this award ceremony.
Mr. Gaurav Tiwari congratulated all those who were honored with this award and wishes them a great future. He also praised all the office bearers and members of Sammaan Foundation for making this ceremony a success.
Below are the names of people who have received this honor:-
Raman Sharma (Deputy Superintendent Tihar Jail)
BabitaBadaik (Senior Social Worker)
Sunita Dixit (Senior Social Worker)
Sudhanshu Pandey (Rehabilitation Specialist)
Shweta Anand (Professor Gautam Buddha University)
Sakshi Arora (Advocate DLSA)
Sonam Singh ( Founder "MuktiEkNayiSoch" NGO)
Vipul Kumar (Founder "BadaltiSoch Charity Foundation" NGO)
Pallavi Jain (Director "Udaan Foundation" NGO)
Neelima Singh (Homeopathic Doctor)
Namita Singh (Founder Beauty Parlour)
Parul Gupta (Senior Social Worker)
Sudha Year (Senior Social Worker)
Sohail Saifi (Founder "Sofia" NGO)
AnuSinghwal (Teacher)
Geetika Bansal (Manager "The Samarth School")
Rohit Mishra (Founder "Mission Fight Back" NGO)
Shobha Upadhyay (Senior Social Worker)
Dinesh Gupta (Advocate/Senior Social Worker)
Name Pal (Editor in Chief "Vishwa Guru Bharat" Newspaper)
RajkumarDigan (Senior Social Worker)
Abhishek Chauhan (Senior Journalist "Media 18 News Network" " )
Rajesh Tanwar (Senior journalist "Delhi Dastak News")
Sheetal Gautam (Head Editor "Eklavya News")
Shri Sunil Chandraswamiji, the chief guest inaugurated the ceremony with the chanting of the Om Shakti mantra and he also praised the awardees and team of sammaan foundation, by saying that people should come forward in this way and keep their duties towards the society with full dedication. He also addressed the youth of the country by saying that "our country needs youth for the fast and focussed development & these youth need to be aware".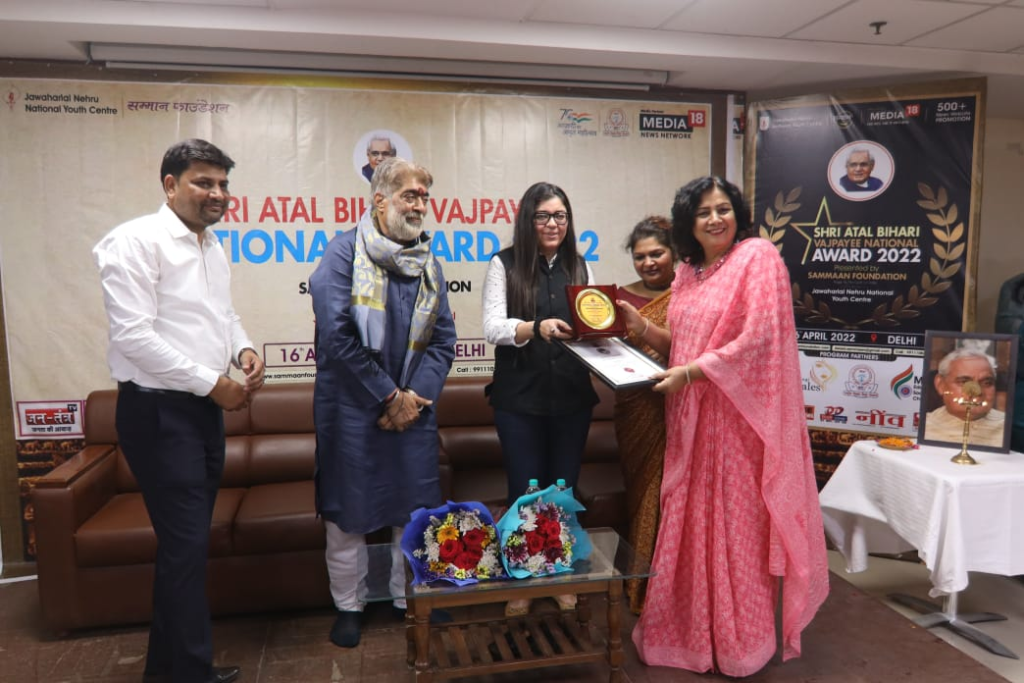 Donate and Become a Helping hand for SammaanFoundation, NGO. It is not about, how much you give but it is about how much you are doing for the welfare of society. Proud to be a Contributor, towards the welfare of the society.
#Sammaan FoundationWebSite, #Sammaan Foundation Facebook Page, #Shri Atal Bihari Vajpayee #National Award Facebook Page, #Sammaan Foundation Instagram Page, #Sammaan Foundation LinkedIn page,#Sammaan Foundation Twitter Account